Health and Medical Journal with registered number pISSN: 2685-2772 and eISSN: 2685-404X is a double blind peer review serial journal published by Medical Faculty of Universitas Baiturrahmah. The frequency of publishing is three issues in a year(January, May, and September).
The topics covered include the fields of Allergy and Immunology, Anesthesiology, Cancer and stem cells, Cardiovascular, Cell and Molecular Biology, Children's Health, Dermato-venereology, Geriatrics, Histopathology, Internal Medicine, Neuro-psychiatric treatment, Ophthalmology, Otorhinolaryngology, Physical medicine and rehabilitation, Physio-pharmacology, Pulmonology, Radiology, Surgery includes orthopedics and urology, Obstetrics and Gynecology, Science of nutrition, Clinical Pathology, Anatomy Pathology, Parasitology, Microbiology, Public Health and Medical Education.
Submissions are welcome from other clinically relevant areas. However, the Journal emphasizes publishing high-quality and novel research.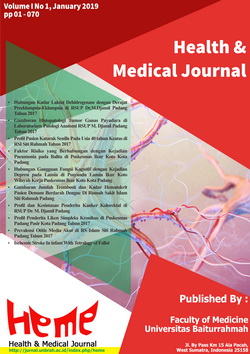 Announcements
Journal Accreditation

We are proudly to announce that Health and Medical Journalis currently ranked SINTA 3 (Science and Technology Index)

Posted: 2021-01-27
More...
Vol 5, No 3 (2023): HEME September 2023
Health and Medical Journal Volume V Nomor 3, September 2023
Table of Contents
Research in Biomedical Science
| | | |
| --- | --- | --- |
| | Regita Siska Ananda, Mila Citrawati, Yanti Harjono Hadiwiardjo, Nugrahayu Widyawardani | 155 - 161 |
| | | |
| --- | --- | --- |
| | Ronald Winardi Kartika, Veronika Maria Sidharta, Tena Djuartina, Kris Herawan Timotius, Chyntia Retna Sartika, Ignatio Rika | 162 - 168 |
Research in Medical Education
| | | |
| --- | --- | --- |
| | Resti Rahmadika Akbar, Muhammad Fajry Azzuhry, Yuri Haiga | 169 - 176 |
Research in Public Health
| | | |
| --- | --- | --- |
| | Raden Roro Ariesna Muharany, Yanti Harjono Hadiwiardjo, Meiskha Bahar, Nunuk Nugrohowati | 177 - 184 |
Case Report
| | | |
| --- | --- | --- |
| | Syamel Muhammad, Puja Agung Antonius, Susan Meuthia, Aisha Savannah | 185 - 194 |
| | | |
| --- | --- | --- |
| | Rina Addina, Noza Hilbertina | 195 - 202 |
| | | |
| --- | --- | --- |
| | Ammarilis Murastami, Siti Efrida Fiqnasyani, Zilpa Widyastuti, Nugrohoaji Dharmawan | 203 - 213 |
Systematic Literature Review
| | | |
| --- | --- | --- |
| | Fauzana Nazifah, Satya Widya Yenny | 220 - 224 |
| | | |
| --- | --- | --- |
| | Prima Adelin, Rahma Triyana | 225 - 231 |