Baiturrahmah Medical Journal published by Medical Faculty of Universitas Baiturrahmah. The frequency of publishing is four issues in a year.
The topics covered include the fields of Allergy and Immunology, Anesthesiology, Cancer and stem cells, Cardiovascular, Cell and Molecular Biology, Children's Health, Dermato-venereology, Geriatrics, Histopathology, Internal Medicine, Neuro-psychiatric treatment, Ophthalmology, Otorhinolaryngology, Physical medicine and rehabilitation, Physio-pharmacology, Pulmonology, Radiology, Surgery includes orthopedics and urology, Obstetrics and Gynecology, Science of nutrition, Clinical Pathology, Anatomy Pathology, Parasitology, Microbiology, Public Health and Medical Education.
Submissions are welcome from other clinically relevant areas. However, the Journal emphasizes publishing high-quality and novel research.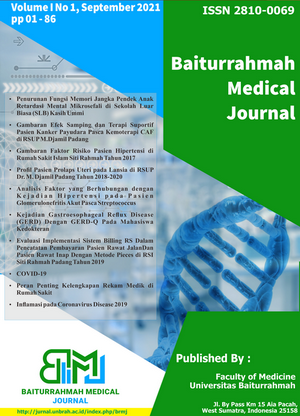 Announcements
No announcements have been published.
Vol 1, No 2 (2021): BrMJ December 2021