B-Dent: Jurnal Kedokteran Gigi Universitas Baiturrahmah with registered number ISSN: 2654-7643 (Online) and ISSN: 2301-5454 (Print) is peer review frequency of publish is two issues in a year.
The topics covered include the fields of periodontic, endodontic, operative dentistry, prosthodontic, orthodontic, oral surgery, dental radiology, management of dental disease, and dental biomaterials science, long-term clinical trials including epidemiology and oral health, dental education, technology transfer of new scientific instrumentation or procedures, as well clinically relevant oral biology and translational research. Submissions are welcomed from other clinically revelant areas, however, the journal places an emphasis on publishing high-quality and novel research. B-Dent: Jurnal Kedokteran Gigi Universitas Baiturrahmah (JBD) is SINTA 3-accredited journal (Surat Keputusan Direktur Jenderal Penguatan Riset dan Pengembangan Kementerian Riset, Teknologi, dan Pendidikan Tinggi Nomor 28/E/KPT/2019, dated 26 September 2019).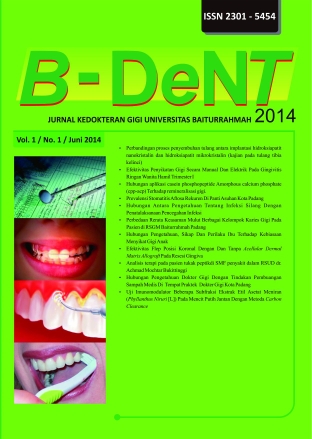 Announcements
Journal Accreditation

SINTA (Science and Technology Index) - ARJUNA (Akreditasi Jurnal Nasional) - KEMENRISTEKDIKTI (Ministry of Research, Technology and Higher Education)

Posted: 2019-11-12
More...
Vol 10, No 1 (2023): Vol 10 No 1, Juni 2023
Table of Contents
Research Articles
| | | |
| --- | --- | --- |
| | Nilasary Rochmanita Suparno, Aulia Syahnas Nabila | 1-8 |
| | | |
| --- | --- | --- |
| | Jessica Budiono, Ade Prijanti Dwisaptarini, Melaniwati Melaniwati | 9-15 |
| | | |
| --- | --- | --- |
| | Cek Dara Manja, Syifa Nabila Ramadhani Siregar | 16-23 |
| | | |
| --- | --- | --- |
| | Gita Dwi Jiwanda Sovira, Lendrawati Lendrawati, Muhammad Taufik | 24-31 |
| | | |
| --- | --- | --- |
| | Moh. Basroni Rizal, Dwi Andriani, Yoga Pratama Putra | 39-44 |
| | | |
| --- | --- | --- |
| | Sayuti Hasibuan, Sal Sabila Aulia Rahma, Sal Sabila Aulia Rahma, Sal Sabila Aulia Rahma | 55-62 |
| | | |
| --- | --- | --- |
| | Nugroho Ahmad Riyadi, Thahirah Syafitri, Dharma Satya Aprianto, Chaerita Maulani | 63-71 |
| | | |
| --- | --- | --- |
| | Inneke Dwi Lestari, Depi Praharani, Achmad Gunadi, Izzata Barid, Didin Erma Indahyani, Niken Probosari | 72-78 |
| | | |
| --- | --- | --- |
| | Yenita Alamsyah, Azmil Hadi, Edrizal Edrizal | 79-88 |
| | | |
| --- | --- | --- |
| | Edi Sumarwanto, Nendika Dyah Ayu, Septi Duvasti Kurnia Illahi | 89-100 |
Case Report
| | | |
| --- | --- | --- |
| | Pebrian Diki Prestya, Asri Arumsari, Indra Hadikrishna, Sri Suryanti | 32-38 |
| | | |
| --- | --- | --- |
| | Valentine Rosadi Sinaga | 45-54 |
Literature Review
| | | |
| --- | --- | --- |
| | siti hajar leni siregar, atik ramadhani, Melissa adiatman | 101-110 |